Creative Learning Activities for Toddlers
Creative Learning Activities for Toddlers
Both imagination and creativity are highly esteemed skills in today's world, with innovation and learning skills being recognized as factors that separate students prepared for increasingly complex 21st-century work and life environments and the students who are not.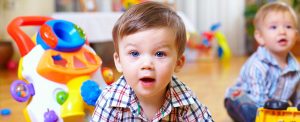 Any type of art form or creative activity allows children to express themselves on a deeper, more intuitive level. In other words, art moves all of us to use our imaginations as we learn to understand ourselves better and share that with those around us. Therefore, fostering the skills of critical thinking, creativity, collaboration, communication, and others is vital to set up students of any age for future success – including your toddler.
The primary goal of creative learning is to incorporate activities that engage all of the senses. Here are some ways you can nurture creative learning skills within daily 'lessons' with your child.
'I Spy' with a Twist
Although as adults, we use magnifying glasses to help us see what we can't otherwise, many children find looking at something through a magnifying glass a novel adventure. Encourage your toddler's curiosity by gifting them their very own mini magnifying glass. Take nature walks to discover what things are out there that you don't normally see and encourage them to feel the textures and use descriptive words for this experiential learning activity.
Painting with Ice
Add a twist to finger painting by making paint 'popsicles' and using them to create visuals that express their imagination. Play with different shades of paint on different colors of construction paper, as well as on novel surfaces like leftover bubble wrap or even cutouts from Styrofoam containers. You will need the following materials to engage in this activity with your toddler.
Popsicle sticks
Assorted colors of paper
Ice trays
Liquid non-toxic paint
CD Ornaments
This creative learning activity for toddlers not only allows your child to create a work of art, but also helps you repurpose unwanted clutter. Your child can create a frameable piece or attach chimes or other hanging items to the CD to make a peaceful noisemaker or a mobile for a baby sister or brother. Some useful items for this activity include:
Sparkly items like sequins, beads, and glitter
Beading wire or fishing line
Child-safe scissors
Glue
Newspaper or magazine clipping
Alphabet Soup
Many parents wonder if their toddlers are too young to learn about letters and numbers. If you incorporate them into activities that you know your child enjoys, then the answer is an emphatic 'no'. Letters and numbers are all around your toddler. They just don't make sense to them yet. You can add foam letters and numbers to water play, simply to make your toddler more familiar with something that is essential for future math and reading skills. Your child can use bowls and spoons to serve alphabet soup.
Paper Plate Instruments
You can help your child make tambourines and other forms of noisemakers for stimulating their critical thinking and hand-eye coordination skills to make something that's fun to play with and engages their sense of hearing. You can begin this activity with these basic decorative and musical items.
Paper plates
Dried beans or beads
Small jingle bells
Stapler
Glue
Markers/Crayons/Glitter and other embellishments.
For more information about your child's creative learning needs, contact us at the Children's Academy of Mansfield, Texas. We would love to be a part of your child's formative years.