Don't Have Time to Exercise? Do It with Your Kids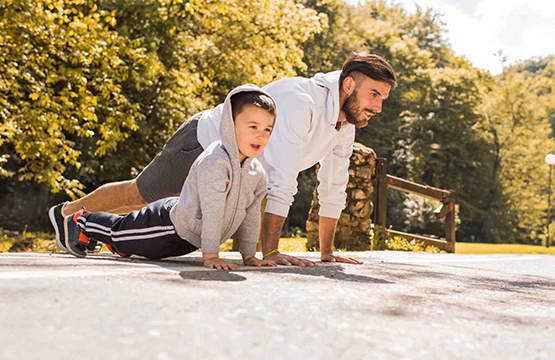 Unless you're a personal trainer or professional athlete, exercising and time with your kids don't need to be compartmentalized. When fitting work and other responsibilities into your schedule, you're likely away from your children enough as it is. By incorporating kid time with exercise time, you can not only spend quality time with your children, but you can also help them have positive associations with exercise as a normal, healthy activity.
So, how do you go about doing that in a way that's effective, safe and challenging for any age? Maybe these suggestions will help.
Take Nightly Walks
An evening walk with your kids either before or after dinner is a relaxing way to get your blood flowing and more importantly, an opportunity for conversations about how your child is doing and what's on their mind.
Play Trampoline Games
While older kids may be drawn to nightly walks, younger children may get bored with this activity easily. A trampoline is a great platform for engaging your muscles and building core strength, as well as a way to mix things up during the week and really let loose.
Create Fitness Competitions
One of the best ways to engage kids in an activity is to make it a game or competition. You can have weekly competitions where the loser of a round of the game has to perform certain exercises. Come up with games that move quickly to fit in the most exercise possible.
Watch YouTube Videos
As you continue to exercise with your kids as they get older, organized exercise routines may become more appealing to them. Consider introducing them to different types of exercise, such as yoga and kickboxing. And best of all, YouTube videos are free.
Play Sports in the Yard
Whether your kid is already involved in school or club athletics or not, consider stocking up on various athletic equipment to engage in sports in the backyard once a week. From baseball to soccer, this is also a great way to introduce younger children to sports they may want to participate in later.
Find Balance in Your Life
Likely, you've chosen to combine time with your kids and exercise because it was the best way to find balance between these two important parts of your life. Don't stop with kids and exercise, however. You can also incorporate walks, climbing stairs and other exercises into your work routine, cleaning house and yard work. Finding time to exercise doesn't have to be a chore.
Contact us at Country Club Montessori School of Mansfield, TX for more information concerning work/life balance and spending quality time with your kids