Spring Has Sprung! Children Love the Beautiful Weather and Being Outside on Warm Sunny Days!
To truly understand education, one must understand that learning happens beyond the classroom. It happens everywhere… especially outside! Spring is a wonderful time to take advantage of seeing the great outdoors through a child's eyes!
Being Outside is Just Plain Fun!
Do we really need an explanation or excuse to get our children outside to play and explore during beautiful weather? Even as adults, we feel better after a long day of sunshine and bare feet in the grass. Discussing the educational aspect of children playing outside is interesting, but the fact is – simple fun is important also.
Keeping the Montessori educational philosophy in mind, with child led activities, we need to pay attention to those days when children need to run off some steam, whether at school or at home. Spring is a wonderful time of year to let them get dirty for the day, running in the yard or playing in a park. You may find things like bedtime become easier as the days are longer and warmer, allowing for more outdoor play and exercise.
This is a great time to bring out some bubbles, sidewalk chalk, and the sandbox toys. We have all been cooped up for the winter. You may find you feel much better too, enjoying the fresh spring air and green grass with your child. It is hard not to smile and giggle as we forget some of our worries and cares during this time, and allow for a day of bubble blowing and grass between our toes.
Your Child Will Learn Through Outdoor Play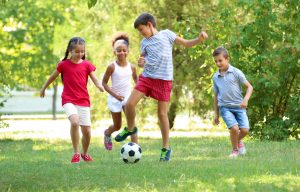 What a bonus! As you and your child enjoy some fun outside, you will not be wasting a day set aside for educational activities. Children naturally learn through play, especially outside. Discussions about butterflies, worms, and plants allow for scientific studies. Physical education is unlimited outside. The school, or neighborhood playground is an excellent place to practice good manners, and the sandbox allows for sharing. This is all part of a Montessori education, and so naturally continues at home.
There will be time for indoor learning. Use the glorious days of spring to take advantage of things in bloom, fresh air, and plenty of giggles.
At The Children's Academy of Mansfield, Texas, we enjoy this beautiful time of year with the children! For questions about our Montessori preschool or childcare programs, please contact us at https://tcacademy.org.