How "Screen Time" Affects Children
How "Screen Time" Affects Children
It is nearly impossible to avoid screens in our current culture. The age has become younger and younger, with many schools even requiring young children to have some sort of device. As parents, we sometimes feel forced to give in to "screens", even if we don't exactly like it. Technology and screen time has its place, and can even be beneficial. The concern as educators and parents is, are there negative effects from too much screen time?
For Some Children, Screen Time Improves Learning
When used properly, screen time can be helpful for some children. We all have different learning styles from a very young age. There is no correct or incorrect way to learn – just different styles. The goal is to figure that style out for each child. For some children, the activity of an electronic game that is teaching them, almost without the child realizing it, can be helpful. The child who loves gaming may be more eager to play a math game, rather than do a worksheet. Many educational programs designed for our devices, offer rewards in the form of points, bonuses, etc.. This can be fun for children, and in that case, make screen time very useful for children, teachers, and parents.
It Is Important to Limit Screen Time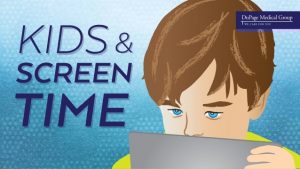 As we discussed, screen time can be useful in education, however, too much of a good thing is seldom good. Studies show that brain patterns in children, do change during screen time. For now, it is hard to pinpoint what it all means, simply because there is a younger generation using screens much more than the previous generation. Until they are grown up, we can't know the exact, life long impact.
It does seem clear that when children use their devices with screens for longer periods of time in the evenings, they seem to have more sleep disturbances, and sometimes feelings of depression. That should be enough for concern, and a reason to set limits.
There is an entire world waiting to be explored by children. Screens are a part of life now, and probably not going away anytime soon. At The Children's Academy, we suggest limiting screen time to a reasonable amount, according to your child's age. We feel it is important to encourage other activities, which include socializing, exploring, and creativity.
For more information about our preschool, childcare, and the Montessori method, please contact us at https://tcacademy.org
Source: https://www.healthline.com/health-news/how-does-screen-time-affect-kids-brains
Source: https://psychcentral.com/lib/the-effects-of-screen-time-on-children/